American City Flags: Madison, WI's flag ranked 11th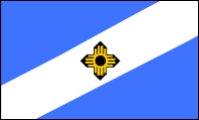 Members of NAVA (North American Vexillological Association) responded to a survey, in which they ranked the designs of 150 United States city flags. Madison's flag took eleventh place.
But wait, what on Earth is vexillology? Apparently, it is the "scientific study of the history, symbolism[,] and usage of flags or, by extension, any interest in flags in general." So now you know.