Yesterday afternoon, I dropped in to the High Noon Saloon to check out the The Valentine's Day Craftacular. It was the earliest in the day I have ever been there, that is for sure. From the moment I walked in, I looked around and thought, "This is pretty neat." The layout and the bustle of activity put me in mind of the actual Floating Market in the BBC version of Neverwhere (from which my shop draws it's name and inspiration).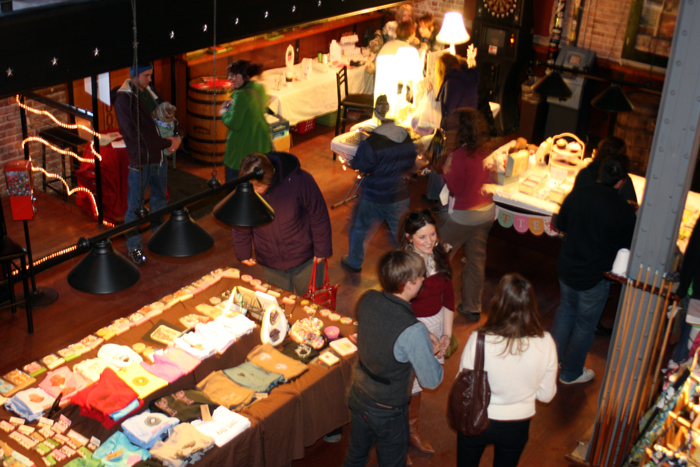 I counted about nineteen vendors. Five of them were upstairs, which is where I started.
First up was Prettifications by Cynthia a store I'd actually stumbled across in the fall while looking for something to wear to a wedding with my little black dress. I didn't buy anything at the time, but it did add a piece of hers to my favorites list. (I still covet it...may buy it yet if no one snaps it up before me.)
Next was Haley Studio, who had some gorgeous handspun yarn and some truly lovely fabric pocketbook-type bags.
Gub Factory's cellphone holders and coffee cup cozies were neat, but the stuffed creatures were the highlight of their table.
At this point, the upstairs was getting crowded, so I went downstairs to look around for a little while.
Space Oddities had a set-up on the pool table. Very hip, very fun.
Picture Day, who also has some great shots of the day, was looking stylin' by the soundbooth.
Lulu's Stabby's Critters may be stabby, but they are also cute as hell.
Antique Basket Lady's bags were totally charming. I loved the bold fabric prints.
Mindy Kuen had little baby t-shirts with neckties. I am nothing if not all about the necktie fashions.
Glitter Workshop was the organizer of the whole shebang. Two words: button bracelets. Scrumptious! Two more words: crochet cupcakes.
The Bare Tree Apparel had a wide variety of belts, hoodies, and shirts, including these screen printed boneshakers.
Lula and Deedee's display table reminded me of a fireworks display, with funky beaded earrings bursting out in every direction.
Kim's Crafty Apple 'n The Apple was an explosion of bright fabrics and beads, plus tasty-looking jars of preserves.
Dainty Daisies, of Oshkosh had a rack of colorful fabric totes and a table overflowing with cheerful jewelry and hair accessories.
Fat Cat Beads' brick and mortar store is tucked away on Thierer Rd, but the Craftacular display was right at the corner of the bar. Tell me, do you not want one of these earring trees? Yeah, I thought so. Me, too.
orangyporangy was tucked in at the edge of stage right, just by the stairs. So, I am not allowed to buy myself any new skirts until spring, but my resolve wavered a bit at the sight of what have to be the happiest skirts in the world.
Stage left was Christina Ward Creatures and more rockin' plushies. Plush chupacabra? Check. No, seriously: hard rockin'. How about a plushGolem of Prague.
Bernie's Girl had skirts in the deconstructed/reconstructed/recycled style that I dig (but usually can only get away with wearing while LARPing), along with candylike "Word Drop" rings.
The last vendor I checked out before heading back upstairs was Whimsy House: "goodness fashioned from vintage buttons & felted wool." Picture a rainy afternoon spent rummaging around in your grandmother's attic and making crafts. (Well, someone's grandmother, at least.) Now picture those crafts done with exquisite taste and skill. Yup, it's kind of like that.
Back up to the balcony, where I was able to get a better look at Little Dandelion Studios' table. Honestly, I don't know what I'd do with pretty, handpainted clothespins, and yet I find myself wanting them.
Last, but certainly not least, was Sommer with an O who had beautiful photos, an interesting presentation, and great boots.
While I wasn't able to buy anything, it was great to see so many local crafters having a good day. The general consensus was that it was a fantastic turn out for a February, and that sales had been very good. I was happy to be there, and maybe someday will return as a vendor myself. For now, though, I've just stocked up my mental wish list.