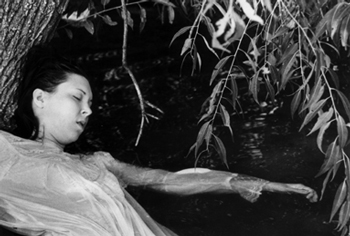 "Ophelia, you're breaking my heart!"
This is one of my favorite photos, and also from one of my favorite photo shoots. Did I mention how grateful I am that I have such obliging friends as fabulous models? This was my first "put the model in the water" shoot. Happily, we had a warm September day for the work, and the water was not at all uncomfortable.
Earlier in the day, we had wandered around in a graveyard, doing a mad scene. The photos turned out all right, but none were exactly what I was looking to achieve. We then trekked over to Lake Wingra Park, where an obliging willow tree and the warm, shallow water provided the perfect backdrop.
I always find this photo to be beautiful and haunting...and just slightly creepy.